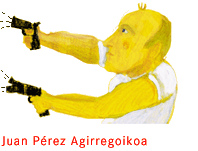 Born in San Sebastian, in Spain's Basque Country in 1963, Juan Pérez Agirregoikoa studied at the Basque Country University of Fine Arts, then moved to Paris, where he attended Paris's École des beaux-arts (ENSBA) and read philosophy at the University of Paris-VIII and the Collège international de philosophie.
Juan Pérez Agirregoikoa, lives and works in Paris and San Sebastian.
He is represented by the Carreras Mugica Gallery, Bilbao, and the Clages Gallery, Köln. He took part in collective shows : Populism (Frankfurt, Amsterdam, Oslo, Vilnius, 2005), Urban realities (Martin Gropius Bau, Berlin, 2005). He took part in the City of Lyon 9th Biennale (2007) at the Sucrière and in the Bilbao Guggenheim museum show "Chacun à son goût" and just recently had a soberly called "Lonely at the top #4" a one-man show at the MuHKA in Antwerp (2009). Agirregoikoa was one of the honorary guests of the 31st Panorama of Brazilian Art of São Paulo. In 2011, he took part in the Anglet Biennale and his work "An eye for an eye and a tooth for a tooth" was exhibited at the Passage souterrain (Paris). The Reina-Sofia (Madrid) will devote a solo exhibition in autumn 2012.
Since 2006, Juan Perez Agirregoikoa has regularly collaborated with the Éditions Matière. They have designed five books together:
Camarades, à présent je suis de droite (Comrades, I Now Am on the Right, 2005); Faible passion du réel / Le Théorisme, méthode de salut public (Weak Passion for the Real/Theorism, Method of Public Salvation, 2006); Concert pour poing levé (Concert for a raised fist, 2007), Citations pour le président Sarkozy (Quotations for President Sarkozy, 2009); Rééducation (Reeducation, 2012).